WordPress is a CMS. It is written in the PHP programming language and uses a MySQL database to store content. WordPress is currently the most popular platform for creating blogs, websites, and online stores and presently powers over 30% of all websites on the Internet. The reason for its popularity is that it is easy to use, reliable, and easy to upgrade and expand.
You can have WordPress on almost any hosting account, and it does not require special conditions and does not consume many resources. If you host your site with us, you can install WordPress with one click within the cPanel control panel. Because WordPress is so popular, there are tons of plugins and themes.
What are WordPress themes?
Themes are scopes of files set by the design and appearance of the site itself. When a theme is installed on a WordPress site, it styles the entire look of the site. So themes design templates. There are an enormous number of free and paid themes for WordPress.
A WordPress control panel allows you to install free themes and paid themes you can purchase from sites such as ThemeForest, Mojo Marketplace, Template Monster, etc. Let's see the best sports WordPress themes.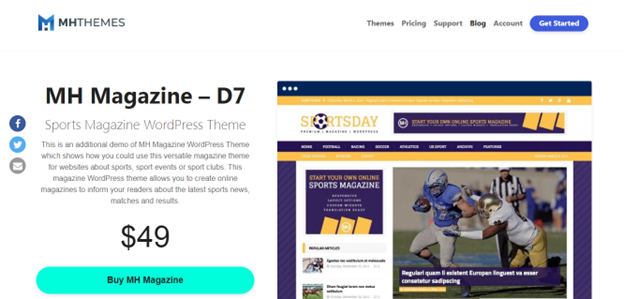 MH Magazine theme is one of the most popular when it comes to sports websites. Various sports websites often opt for this theme primarily because of its flexibility. You can change everything according to your wishes and needs to create the ideal sports website. You can also change various options and add custom widgets. MH Magazine theme is also often used as a magazine template. It is a top thing for magazines because it is fully customizable for whatever sports you want to write referring. Another thing that sets this theme apart from others is the layout option.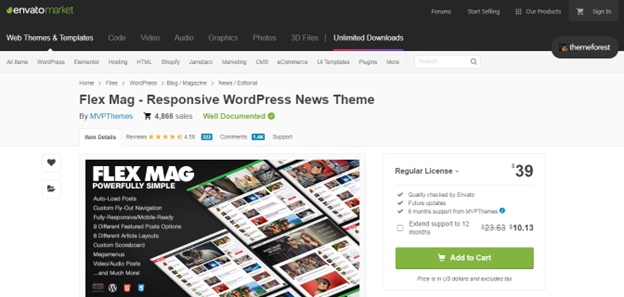 If you like the flexibility of themes, then Flex Mag is another ideal choice. With all the flexibility, you can create an attractive sports website layout. The Flex Mag theme is among the more modern and versatile WordPress themes. There are many options, and one of the most popular is automatic post-loading.
Like the previous theme, Flex Mag is ideal as a magazine template. It has nine styles for the featured post section that you can customize to your wishes completely. Best of all, you do not need any prior coding experience to build a great website. If you want your theme and website to look ideal on all kinds of devices, Flex Mag has taken care of that too.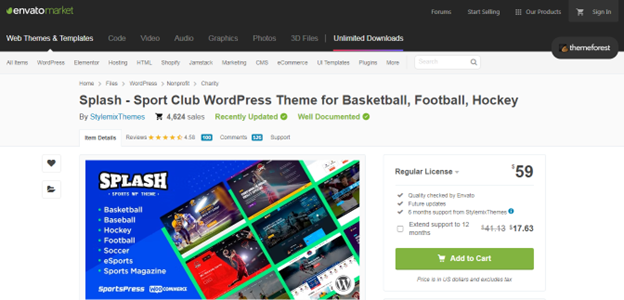 Splash is one of the leading WordPress sports themes. You can not mention sports topics without leaving out Splash. Why is it like that? Due to the many advantages, which will make other themes fall into oblivion. Splash has a WordPress customization tool, which shows its flexibility. Before presenting the final layout of your website to your visitors, you can test and edit it differently. The Splash theme will look ideal on all kinds of devices, which is essential for visitors. Also, Splash works with the SportsPress plugin. It is perfect for all sports websites because they can directly post the league and all the necessary information.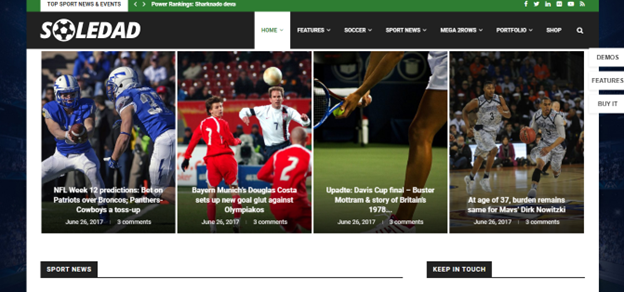 Soledad is a multipurpose WordPress theme. It means – if you choose Soledad, you can put together the perfect sports website with news, updates, and stories about sports. Also, if you want to run a sports blog, this theme will suit you perfectly because of its adaptability. Soledad offers over 220 built-in demo pages that you can customize. Also, there are over 6000 home page designs available. Impressive, isn't it? In addition to all this, you can integrate this theme with many WordPress tools.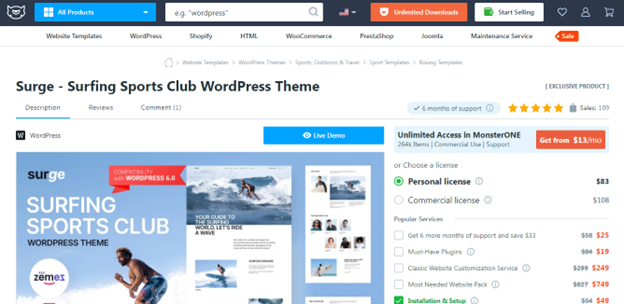 For the uncomplicated sports website layout, Surge can help. Remember that simplicity attracts and that less can always be more. With Surge, you can build a website that will be attractive and have all the necessary information. Surge is said to make the website look as lightweight as the sport is. The Surge has an absorbing color scheme, fonts, and a photo slider on the main page. You can customize a lot of it if you want. Although users often point out that Surge offers what they want.
Final Words
WordPress is definitely the number one platform for creating all kinds of sites, from presentations of companies, products, or services to designing professional online stores. It comes with a simple interface that you will master very quickly. If you want the ideal sports website, we have listed several WordPress sports themes that will delight you.