Today, everyone can have their own part of the Internet. To achieve this, you need to rent a space, come up with a name and learn how to create a website. You can always pay a web designer to design it, but why not first see what you can do yourself? With the right software, you can create a simple blog site or a demanding portal – it depends on you and your wishes.
This type of flexibility is provided by WordPress, which is a significant factor when it comes to website development. WordPress is extremely popular because of its ease of use. However, it is only one of the many good features that make many people choose this CMS. Because of its characteristics, many large companies, such as Facebook, Disney, BBC, Mercedes-Benz, Vogue, and many others, use WordPress (WP) for their websites.

If you have a WordPress website, you need to take its security seriously. WordPress is still a frequent target of hackers. Last November, more than a million WordPress users of sites managed by US company GoDaddy were affected by a data leak. That included their email addresses, private SSL keys, and administrator passwords. The attacker operated undetected inside the company's network for two months.
Many WordPress administrators are novices to IT in general and security in particular. And attackers know this and use their flaws. An example – is a 2018 phishing campaign that targeted WordPress administrators. The message said that a WordPress database upgrade (!!!) was needed, and many fell for it. At one DefCon conference, hackers were capable to locate a new WordPress site within 30 minutes. This attack, called WPSetup, exploited transparency in the issuance of new SSL certificates.
As you know how important security is on the Internet, we will present you with the best solution for WordPress security – Security Ninja. The fact is that this plugin has been on the market for over 10 years. And a little more than 10 thousand users could tell you about its success. But let's find out more about this powerful plugin.
Security Ninja
This plugin is perfect if you need a complete WordPress security solution. Security Ninja does not focus on one area. The developers of this plugin tried to cover all the necessary areas. With this plugin, you can:
Protect login
Adjust basic settings for general security
Have a firewall to block threats
Scan or detect possible problems
Gain insight into visitors, so you can analyze suspicious activity
Receive notifications via email
A free version of Security Ninja
You can get to the free version simply. You only need to download the plugin on WordPress, which will download quickly. It is not complicated to use, works fast, and does not interfere with the website speed. After you have installed the plugin, click Run Tests. Then the plugin starts working.
The scan takes about 1 minute, and this plugin can scan over 40 potential threats. The report you get after the scan is interesting. You get results in colors. If the result is red – there is a potential problem. Click on it, and you will get instructions to solve that problem. You also get instructions for deleting or modifying the code.
Security Ninja Pro
Security Ninja also has a Pro version, but you need to pay extra. With payment, you get a bunch of new and useful functions. Do you need it? It depends on you and your needs. We will explain separately each module you get with this plugin, and the final decision is solely yours.
Firewall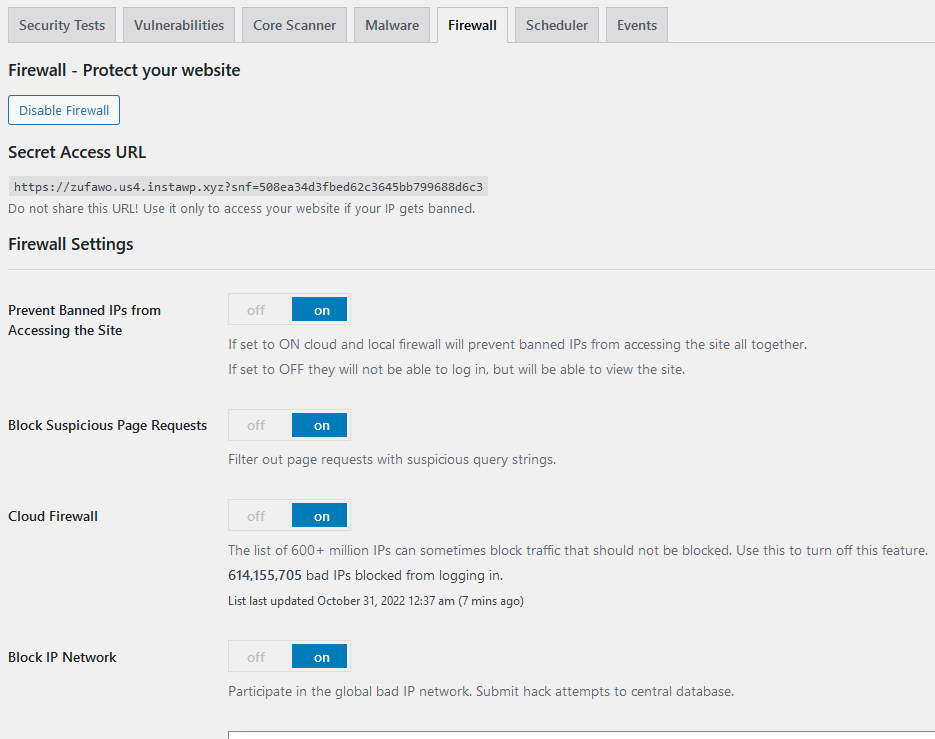 A firewall is a module that provides additional security to your WordPress site. A proactive firewall blocks threats elsewhere on your site. It has a cloud protection option that blocks over 600 million known malicious IPs.
You can set geo-blocking rules and block requests from suspicious pages. What else does this module offer?
Country Blocking
Block SPAM
Redirect blocked visitors
Rename login and admin
Bruteforce – Protect Login
Bruteforce – Rename Login URL
Blocklist Network
Filter bad requests
Malware Scanner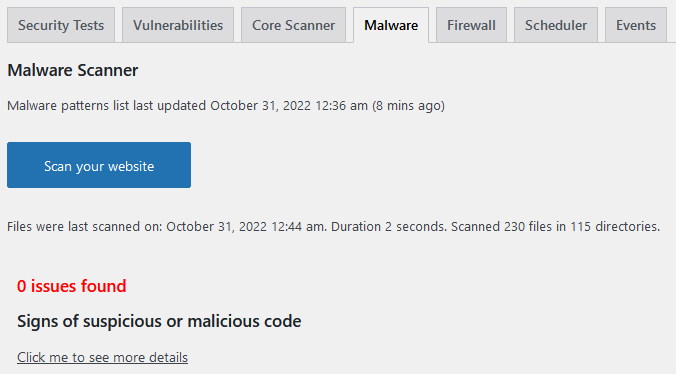 This is one of the most crucial modules – the malware scanner. This scan allows the detection of malicious code in underlying files. By using this plugin, you can see which code is not infected and which should be cleaned. Even if a file with malicious code appears on your server, this plugin will handle it.
This is possible with this scanner function. If the malicious file is genuine, you can set it to prevent it from appearing in the future. This module will make it easy for you to protect your WordPress site even 100%. And all this is possible with just one click, and the scan starts.
Core Scanner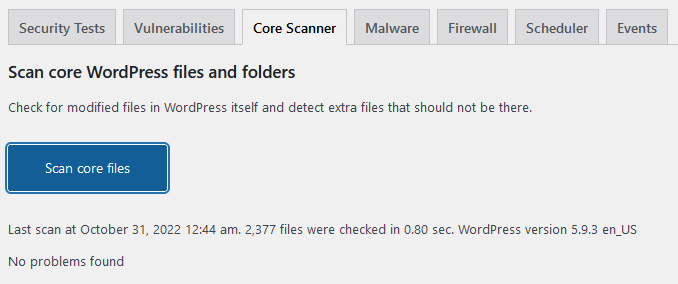 Security Ninja comes with another essential module – a core scanner. This scanner is primarily used to test the codes in the core files to identify danger signs. The core scanner is used to analyze your website in more detail and is very important for security.
All your files will be compared with the master copy that is safe through this scanner. You only need one click to get the job started. After that, you can see the changes in the file, recover the original version or get more detailed help and descriptions. The results will be marked in different colors that define 5 categories.
Scheduled Scanner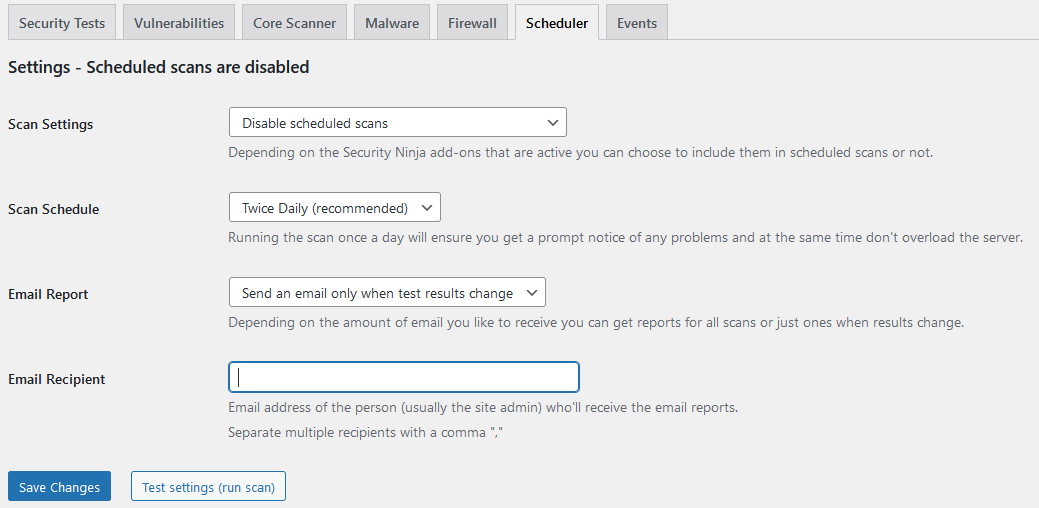 Another scanner you get with the Pro version of this plugin is the scheduled scanner. This scanner is useful and will make all the work even easier. It is possible to program this scanner to run tests at regular intervals. Then the plugin does the work itself. So you don't need a single click like in the previous modules.
This module will ensure that the website is checked once per day, and you will receive the report via email. This is an ideal time-saving module that will do the job perfectly.
Events Logger
This is the module responsible for monitoring and recording every event on the website. Any observed changes and events that are not done by you or authorized persons indicate that someone is trying to hack your website.
You will receive notifications, a complete report, and data via email. It is possible to set the data recording time. What does this module provide?
Change the login page URL
Limit login attempts
Safelist/blocklist IP addresses
Hide login errors that tell people if an account exists
Vulnerabilities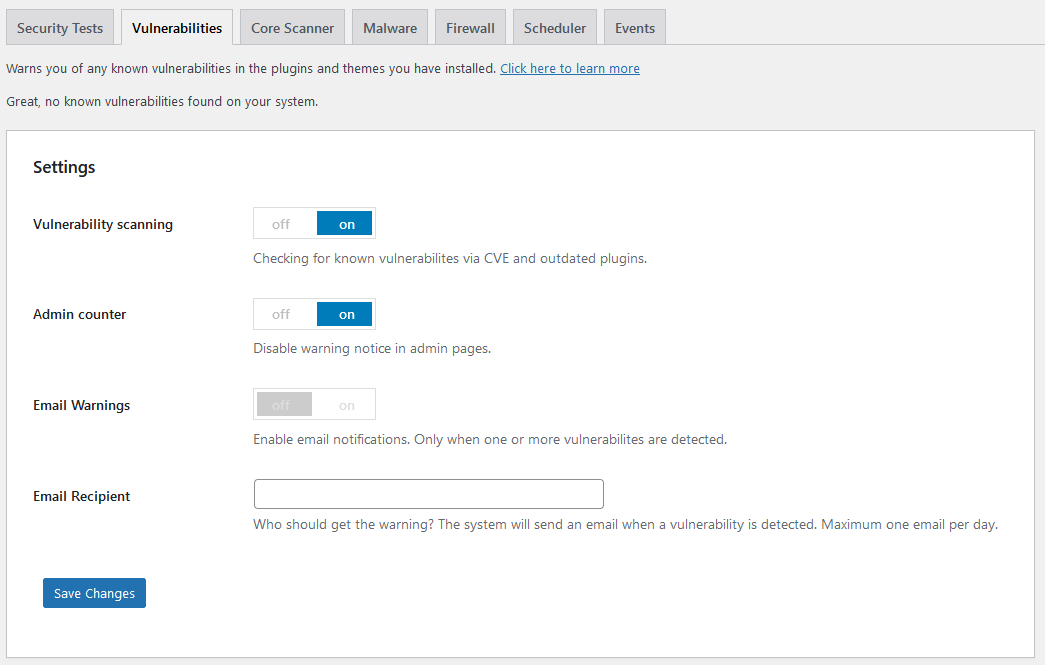 As you may have noticed, each module is dedicated to finding potential problems in some area of the website. Security Ninja includes many different functions to detect vulnerabilities on your website. First, it is possible to scan the underlying files and the codes in them.
We talked about this in more detail above. Basically, in a few seconds, you will get a report if the codes in the files have been changed. That way, you will find out easily if the page has been hacked.
Second, there is the ability to configure the site against over 40 potential issues. It is significant because it covers all segments that are most often attacked. If a problem is detected – you will immediately receive a proposed solution.
Thirdly, this plugin tracks all the activities of your site. It also monitors other plugins for detecting vulnerabilities.
Security Tests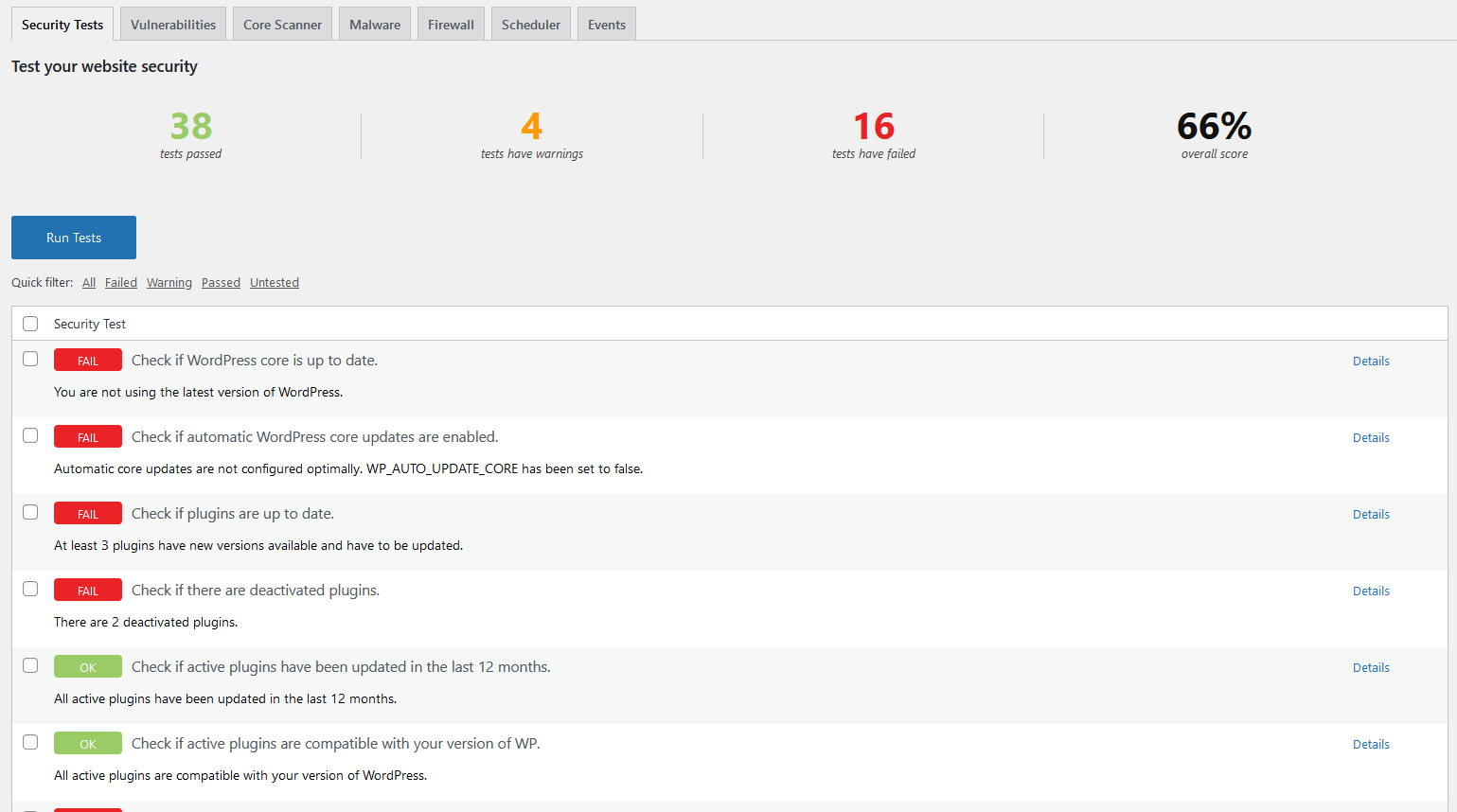 The name of this option says it all – security tests. You must choose the areas you want to test, and it is possible to do a comprehensive test. After marking, click start, and the process starts. It won't take long to get results. In the results, you get an analysis of each individual test and a summary at the top.
Next to each test, you have the Details option for additional information. It often happens that along with the test results, you also get offered solutions and solve the problem immediately.
Security Ninja for MainWP
Security Ninja can also work for MainWP. All admins easily manage multiple WordPress websites through the control panel. You can install this extension for free. It will help you get all the reports on all the websites that have Security Ninja.
Price
The cheapest pro package starts at $39 and works on just one website. You get a year of updates and access to all four of the pro features listed above. You also get premium support.
The multi-site package costs $79 and can be used on 99 websites. The top package costs $199, but it can be used on 99 sites and your client's websites. With the top package, you also get lifetime updates.
Final Words
If security is important to you, then you have found the ideal solution for you. This plugin will increase the security of all your web pages, and you will also receive reports and notifications when a problem may occur. For additional protection, consider implementing plugins like WP Force SSL and WP Login LockDown. WP Force SSL ensures your site always uses a secure SSL connection, while WP Login LockDown helps prevent brute force attacks by limiting login attempts.
We tried to at least briefly present all the functions and options that these plugins offer. Although, feel free to do more research on your own. Over 10,000 satisfied users have no intention of replacing these plugins with another. That will tell you enough about what the competition is offering. Let Security Ninja along with WP Force SSL and WP Login LockDown be your collaborators in securing your WordPress site!