Having good customer support on your website is important for a business because it can help to improve customer satisfaction and build trust with your customers. When customers can get the help they need quickly and easily, they are more likely to have a positive experience with your business. 
Live chat is a feature on a website that allows users to communicate with a customer service representative or sales agent in real-time. This can be useful for businesses because it allows them to provide immediate support and assistance to their customers, which can help improve the overall customer experience and increase customer satisfaction, increase sales, and conversions by providing customers with the information they need to make a purchase decision. Live chat can also help businesses gather valuable feedback and information from customers, which can be used to improve the products or services they offer.
There are several benefits for businesses that use live chat on your website, such as:
Improved customer experience
Increased sales and conversions
Better feedback and insights
Improved response time
Cost savings
3XC Live Chat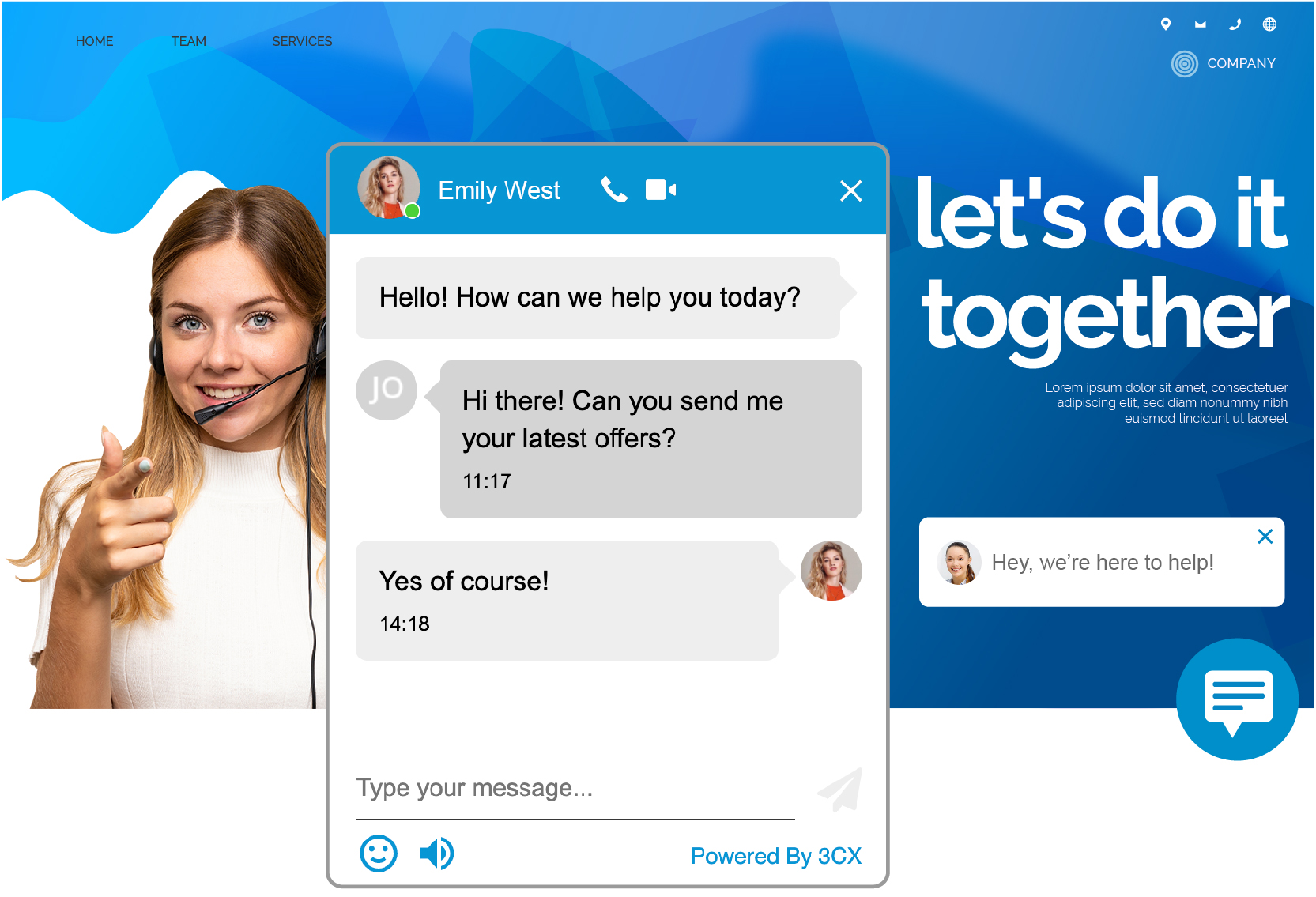 One of the best live chat solutions for your WordPress page is 3XC Live Chat! It provides a wide range of options and features that allow you to set up and fully customize live chat assistance on your website to help your customers with any of their needs, problems, or inquiries!
It is critical to note that 3XC Live Chat is 100% free! Aside from the pricing, what differentiates it is that it is built for small and medium-sized organizations, but its scalability and flexibility allow anyone to use it on their websites. 
Features 
3CX Live Chat is a fully customizable chat support solution that offers your visitors real-time live chat support including voice and video calls. This way call agents can promptly react and help the visitor solve any inconvenience they may have with your service or product.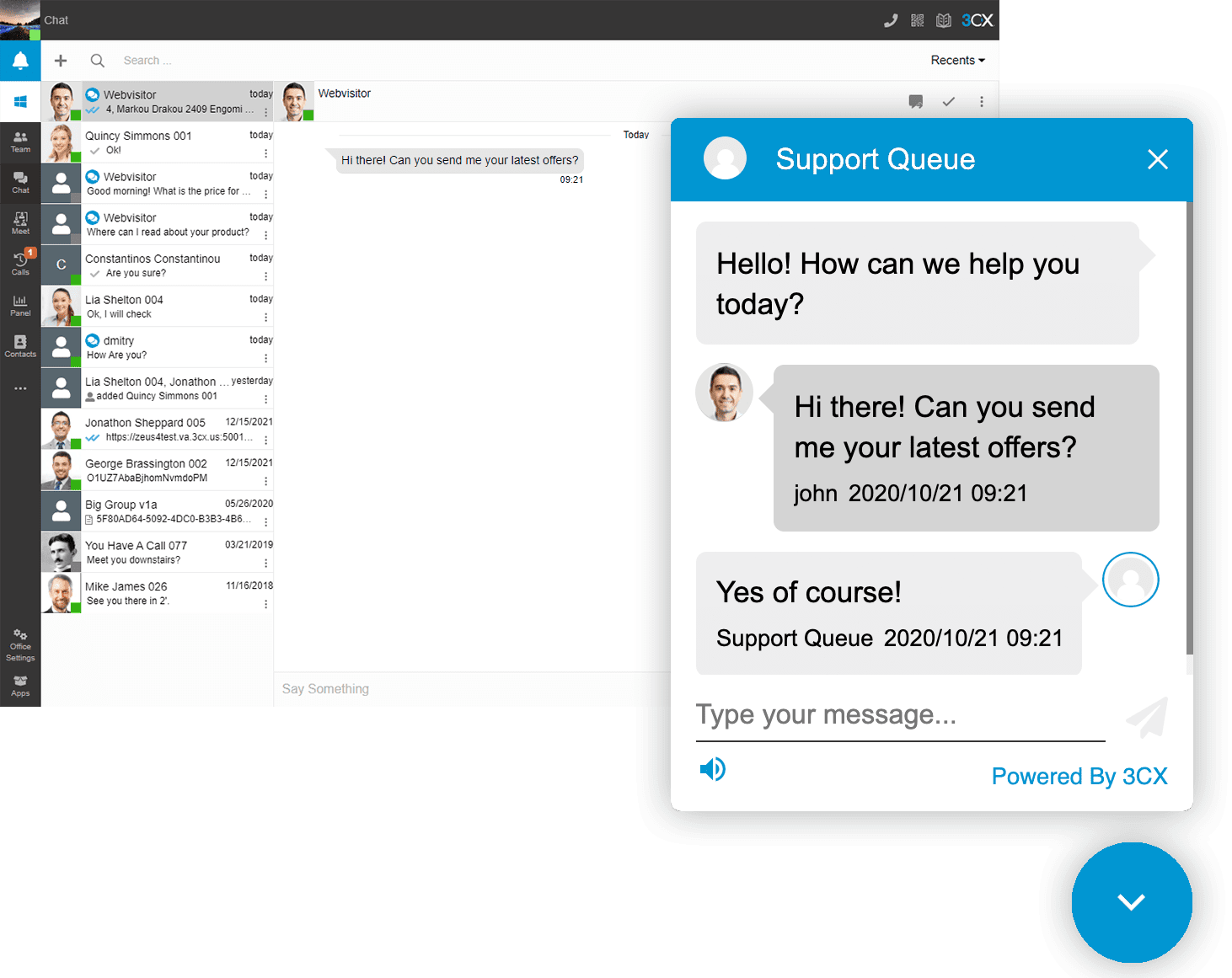 No two issues are the same; some require more attention than others, which cannot be provided solely through the chat feature. This is where 3CX Live Chat flexibility comes into play, allowing call agents and visitors to quickly switch from chat to voice or video call to resolve issues more quickly and efficiently. Calls are made through the 3CX Talk link, which eliminates the requirement for mobile phone numbers. Instead, visitors can contact you through the web client, desktop app, or mobile app.
3CX is also collaboration-friendly software that allows you to discuss customer problems with your team via chats or calls, it even enables you to set up a video conference for your team, and create chat groups for easier communication with your colleagues to efficiently remove difficulties.
3CX Live Chat configuration
Setting up the software is an easy task – go to their website, navigate to the signup section, and join up using your Google account or email address. After that, you will be prompted to enter company information such as name, phone number, country, and language. Then, add users and assign them roles (Manager, User, Receptionist) before enabling the Live Chat feature! Once enabled, enter your email address and download the WordPress plugin from the link provided.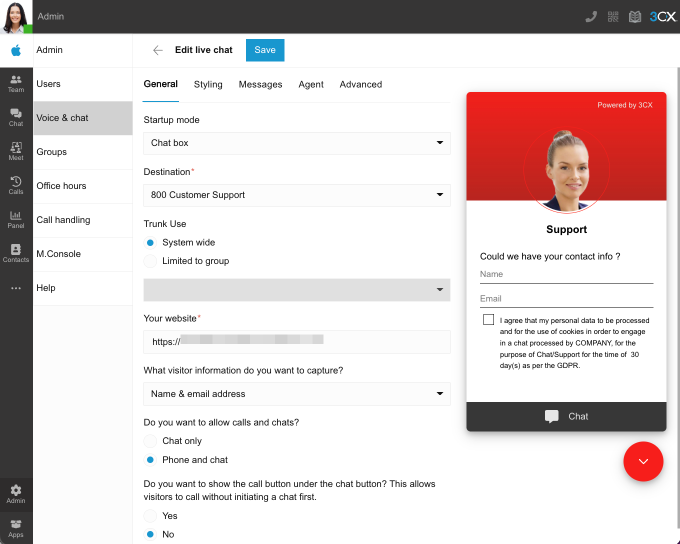 Then, go to the 3CX Web Client and log in to complete the last steps in creating and configuring your live chat feature. Locate the 'Voice & Chat' section on the left-hand side after logging in to the web client. You can see various chat options here, such as the information you require from your visitors and the to select chat options (chat only, phone and chat, or video, phone, and chat). You can also toggle the call button beneath the chat and alter the appearance by changing the chat theme colors to fully personalize it to your website style, and adding the agent's name, and avatar.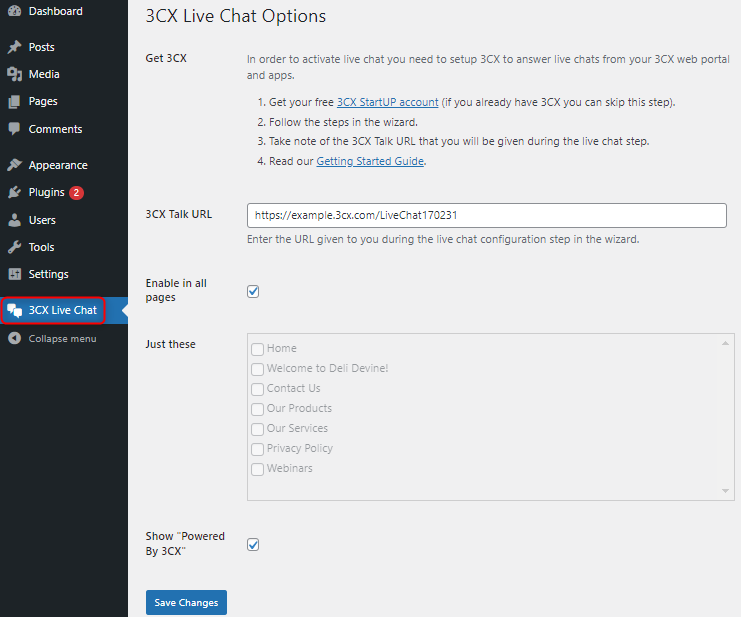 Then after, go to your WordPress dashboard's plugins section and upload the previously downloaded file, then install and activate it. Once finished, go to the plugin's directory, paste your 3CX Talk URL, and activate chat support on all pages of your website by ticking or leaving the box blank, depending on your preferences.
You are now ready to put your new chat feature to the test on your website! Go to your website and look for the small button in the lower right-hand corner. Click on it to try out its features. All chat messages and phone calls are routed directly to the 3CX Web Client!
WhatsApp integration
Many people nowadays use WhatsApp as their primary means of communication. It can be integrated with live chat on a website allowing businesses to provide customer support and assistance via WhatsApp, which can be more convenient for some customers. Additionally, using WhatsApp for live chat can help businesses improve their response time and provide more personalized support to their customers. 
The same is with 3CX! This one encourages you to give your clients more options to reach you as you can integrate WhatsApp with 3CX Live Chat and manage messages and calls through the Web Client, desktop app, or mobile apps. This enables your agents to answer, transfer, and resolve any customer query from one centralized place, and it allows you to track response times with built-in SLA timers, reply times, and agents' performance.
3CX allows you to connect WhatsApp with your live chat support for free since this feature comes in the StartUP package which is available for free for up to 10 users! 
Pricing
3CX Live Chat is available for free with all the necessary features you need to successfully integrate utterly-needed chat support on your website! However, for companies who want more of it, more advanced features – there are pricing plans: 
StartUP Pro: €175/a year
Dedicated Pro: €295/a year
Dedicated Enterprise: €330/a year
No matter which plan you select, installation is quite simple and clear, requiring up to 2 minutes to complete.
Conclusion
Let's summarize – live chat support is essential for every business as it can lead to increased customer loyalty and potentially even more sales. Additionally, providing customer support on your website can also help to reduce the number of customer service calls you receive, which can save your business time and money. In short, having good customer support on your website can benefit your business in several ways, and 3CX Live Chat offers you easy configuration and implementation of live chat support to your website.