Are you looking for best PDF editors for Mac?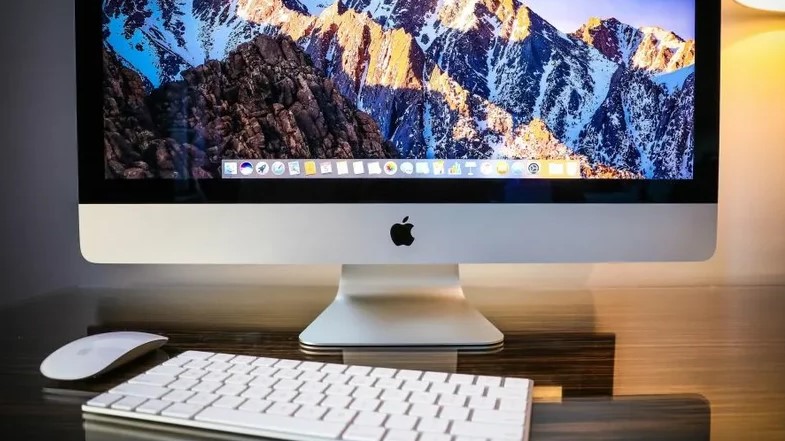 It is extremely difficult for a regular Internet user not to have come across or used the PDF document format as they are commonly used. This is the so-called Portable Document Format. This abbreviation refers to the type of document created within a specific file. This format is used when the document must be two-dimensional.
However, it also cannot be dependent on the hardware or software of the device on which it is saved. Every document of this type contains a description, which of course, includes some textual content, such as raster or vector graphics, but the content varies depending on the type of document. It is also worth noting that some PDF documents may contain fonts that are required for the content to be displayed correctly.
The primary purpose of this document format when it was created was to store electronic documentation. Of course, the PDF format has evolved, and new options have been added to improve its quality. These days, it can be used for more than just storing electronic documents; it can also be used to start preparing certain contents for printing.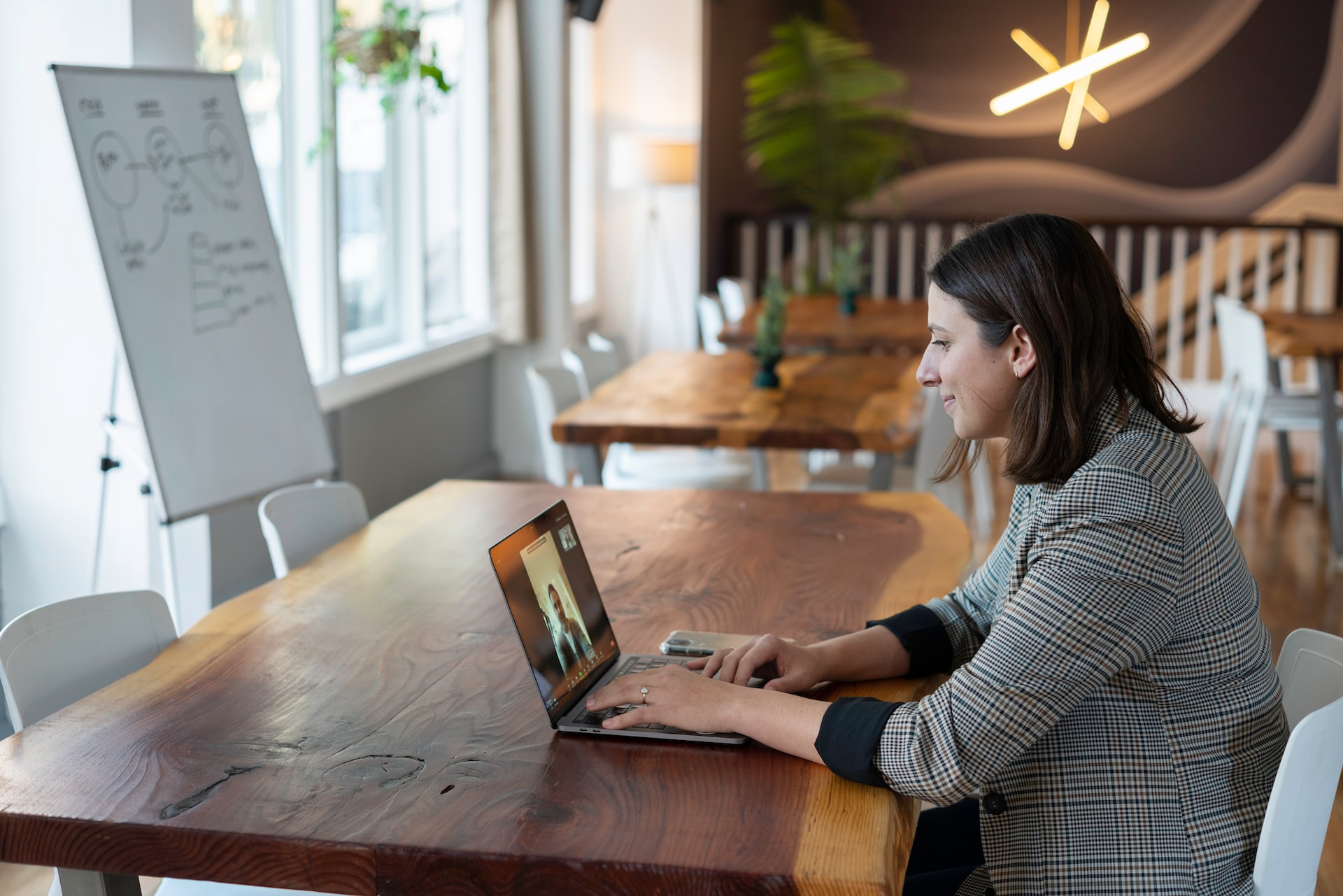 A PDF enables the distribution of documents that cannot be modified by a broad range of operating systems. If you need to make changes or additions to a PDF file or fill out a form that has been saved as a PDF, you can convert the PDF file to Microsoft Word format. Fortunately, many free programs can be used on a Mac. Here is a list of 5 best Mac PDF editors to try out.
1. PDF Reader Pro for Mac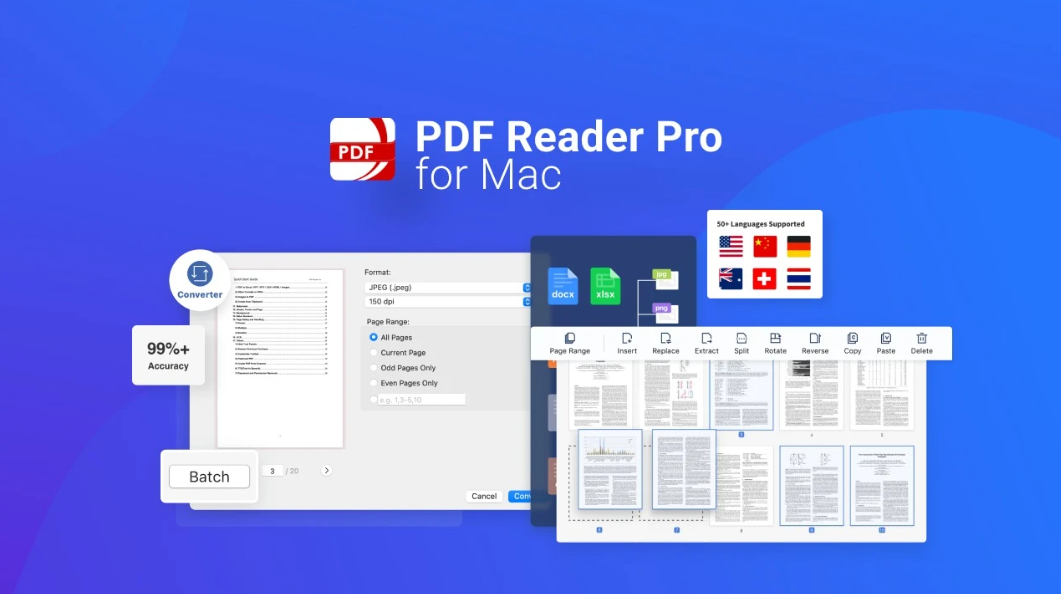 You can use this PDF Reader Pro for Mac tool to choose various display modes for numerous circumstances. If you want to read alone, you can use book mode, and teachers can use slides for classroom lectures. It allows you to use different colors for highlighting and underlining. The procedures for dealing with large files are greatly simplified by creating outlines.
By observing the outline, you can recognize and locate the content you require. In a single step, PDF Reader Pro allows you to easily create empty PDF files or transform PDF format files into any type of office PDF document for editing in a single step. You can edit text content, pages, and documents in PDF Reader Pro, adding and removing content and pages as needed. You can use this tool to convert PDFs between different file formats.
The best part is that you can do it without losing your fonts or formatting. It has a feature that allows you to merge PDF files. Use this tool to combine multiple files into a single compact PDF. Those looking for the ability to edit PDF documents can select from a variety of options.
2. Foxit PDF Editor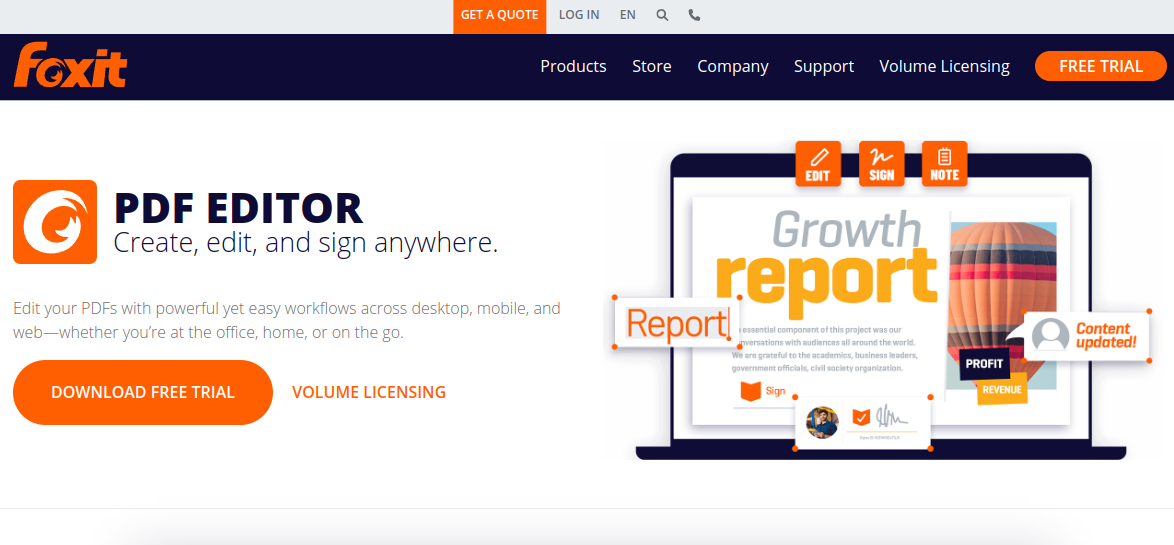 Foxit PDF Editor is described as a fast, simple, and secure PDF solution. Foxit PDF Editor and Foxit PhantomPDF are both editors. As a result, many people, including business owners and consumers, have increased their product offerings. This educator for your classrooms and online forums also loves this tool for students for academic purposes.
Foxit PDF Editor allows you to easily edit and create PDFs. It provides various tools for creating files and sharing them with various managers or social sites. Additionally, comments are permitted in this editor. In terms of pricing, this PDF editor provides various plans at various prices.
3. Adobe Acrobat Pro
The Adobe Acrobat Pro PDF editor is made up of three parts: Acrobat DC, for numerous PDF editing operations that you can use on your desktop and mobile devices; Adobe Acrobat Pro PDF editor; and Adobe Acrobat Reader. Adobe Document Cloud is used to develop and export PDF files.
Acrobat Reader DC will allow you to read, print a hard copy, or sign your PDF! This editor is both software and a PDF editing implementation that you can download from Google Play or the App Store. Overall, this fantastic PDF editor is compatible with Mac devices. It's easy to see why it's regarded as one of the best PDF editors.
4. Smallpdf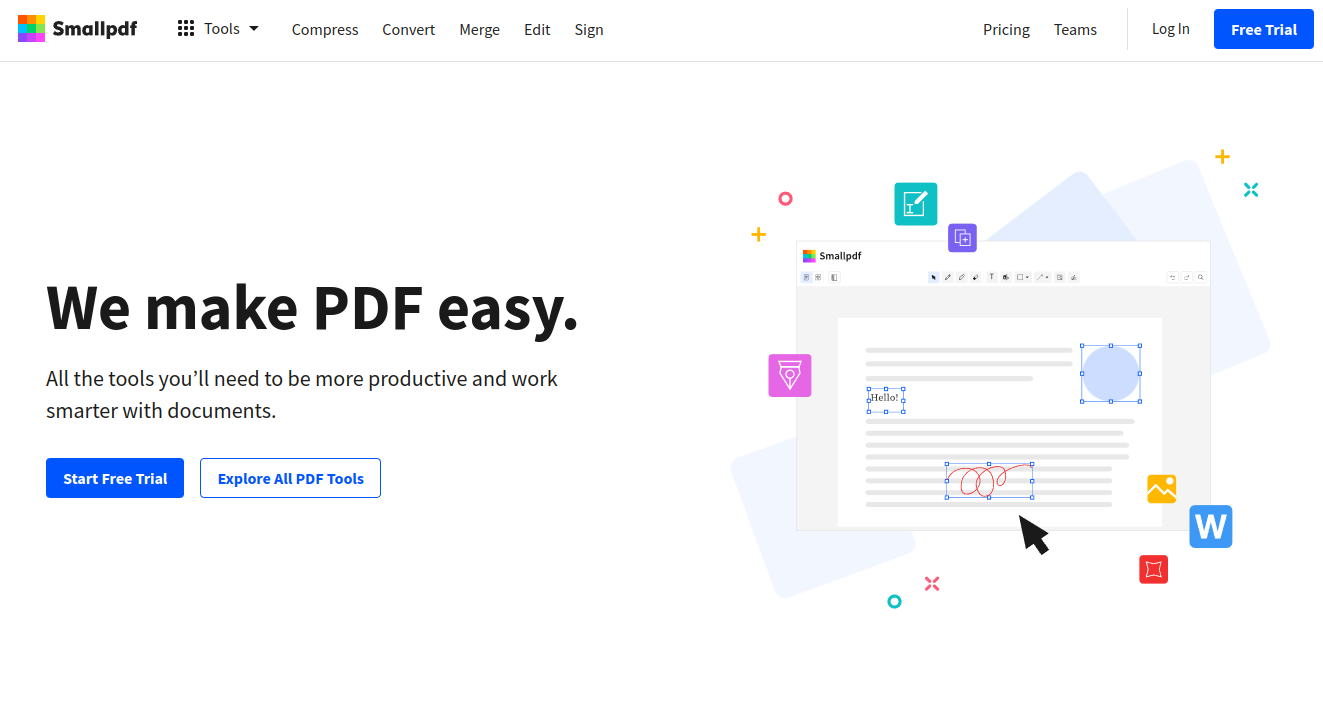 Smallpdf provides several features that you can use to create and edit PDF files. Smallpdf can guarantee you the greatest experience and high quality when it comes to modifying PDF files. It can automatically compress PDF files, which is one of its key features. This is an excellent feature for conserving storage space on your devices.
You can use this PDF editor to convert PDF files to a variety of file formats, including PowerPoint, JPG, Excel, and others. This PDF editor includes features such as PDF for design, which allows you to create signatures, sign PDF files, and even ask others to sign them. If you are worried about your privacy, it allows you to add passcodes and rapidly decrypt PDF files.
5. Easypdf

Easypdf is a free online PDF document editor with a plethora of features. They are effective and can help with the PDF editing process. Its simple and minimal interface can make the process straightforward. The functions are neatly organized and can be accessed with a single click.
You can use this tool to convert PDF files to other document formats such as Word, PowerPoint, Excel, JPEG, and others. OCR Online is a feature of Easepdf. You can use this feature to convert data from an image to text or Word. This is why it is regarded as one of the best free online text editors.
Conclusion
A good and useful PDF editor can convert and edit a variety of file types. A PDF editor's primary function is to create PDFs. People would care about this. As a result, people from various fields should select the best PDF editing tools to use in their work. Of all the mentioned PDF editing tools, PDF Reader Pro for Mac stands out the most. This PDF has a lot of helpful features all in one place.