Every problem in the world needs a solution. And according to most people, the android solution should be available NOW. 
This is why on-demand service apps are on the rise. More people are looking for convenience in their life. Thus they turn to other people to do their work for them. 
Here is a graph depicting the growth of the mobile app sector.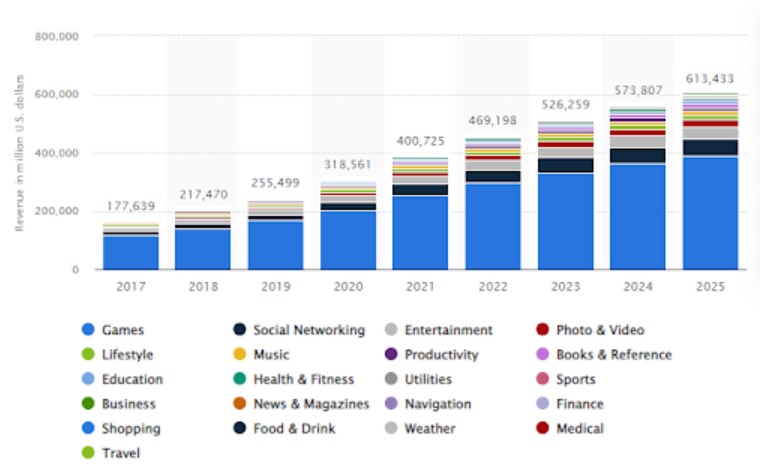 On-demand service apps rose to popularity during the peak of the 2020 Pandemic. On-demand services are expected to rise to $335 billion by 2025.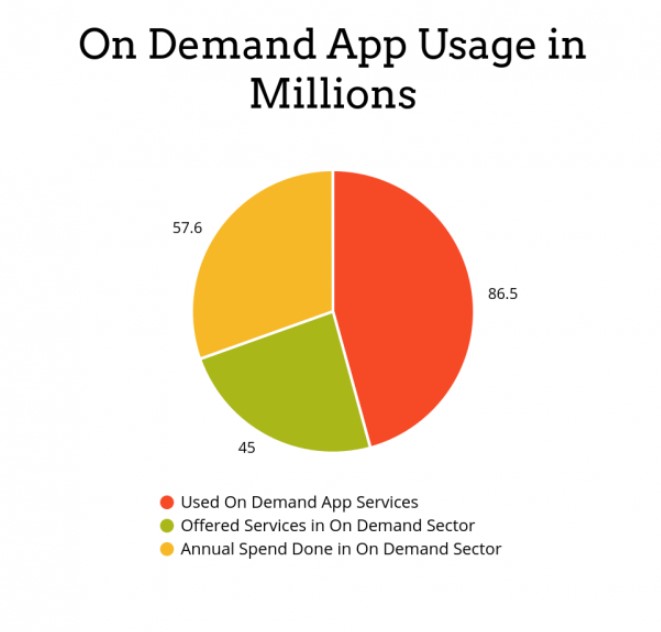 So if you've got an on-demand app idea, now is the time to hire an iOS developer and cash in on your idea. 
If you don't have an idea but still want to cash in, then read this article. We've collated the top 8 on-demand service app ideas for you. 
1- Psychology and Mental Health 
Globally, the state of mental health is at one of its worsts. We could all do with a mental health check-up. Apart from therapy still being taboo, the ease of access to mental health care providers is a limiting factor for many. 
And that's the problem an "On-Demand" mental healthcare app solves. 
Physically attending therapy sessions is not something everyone is willing or able to do. So if this app provides online therapy, that would be another huge win for the service. 
Since this app is providing a medical service, it's crucial that it adheres to strict quality standards. This comes under the responsibility of the developer. Hire an iOS developer who you're certain can get the job done.  
What to focus on: 
A mental health app obviously needs to be soothing and bring positive feelings to others. So focus on a clean UI that is pleasing to look at. 
2- Cleaning Service
With everyone living a fast-paced life, you often don't have enough time to deep clean their houses. So if you can afford it, the odds are that you'd opt to hire a cleaning service to do the dirty work for you. 
Having a squeaky clean house has a couple of prerequisites. 
Power tools 

The will to clean 

Big ladders
It's not everyone that has all three. And that's where a cleaning service comes into play. And it's even better if you can have a cleaner available on-demand. 
The usage of on-demand cleaning apps is on the rise. It takes a few technical skills to clean. But to build an app, you'd need to hire an iOS developer. 
What to focus on: 
Users will book services through your app. So the interface must be easy-to-use and understood. 
3- Utility Service 
Finding a reliable maintenance specialist always takes more time than you'd expect. The repairer love to cancel on us or not show up at all. So the audience for an on-demand utility services app is large and eager. 
Most people would like immediate fixes to their plumbing or electric problems. That's why an on-demand utility service app could be a huge money-maker.  
What to focus on: 
Amassing a directory of talented maintenance specialists should be a priority. Facilities like making payments through the app would also improve the rating of your on-demand utility service app. 
4- Grocery App
After the whole 2020 fiasco, people have become more reluctant to, or have even fallen out of the habit of visiting grocery stores. When other people can do your shopping for you, why do it yourself? 
Instant grocery delivery apps are one of the most used ones today. 
There are a couple of business models you could adopt in this sector. One of them is having drivers deliver groceries from existing supermarkets. Another is to have an in-house supermarket stock and deliver from that inventory. 
What to focus on: 
Whichever model you choose, the shopping interface should facilitate easy shopping. Make the shop look and function well by hiring an expert iOS developer. 
5- Gift Delivery 
How many times have you forgotten a birthday or anniversary at the last minute? When you remember in a panic, an on-demand gift delivery app will be your saviour. 
It's important that the types of gifts this app sells are unique. It should not make the person celebrating feel like the last thought. It will be even better if the service has personalized gift options
What to focus on:
It is paramount that the delivery service is effective and arrives on time. So the drivers you employ must be reliable employees. 
6- Packers and Movers
Packers and movers service is nothing new. But it being available on-demand is what is atypical. 
It is not often that people decide to move last minute. But they may delay booking a packers and movers service. So on-demand packers and movers service is a much-needed fallback option. 
Customers would appreciate holistic service, especially during the bustle of moving. So prioritize giving your customers a good experience. 
What to focus on: 
The booking interface should be effective for this app. Because a packing and moving service is timely. So the service quality should also be excellent.   
7- Dog Walking/Sitting
Pet parents are very particular about their pets' well-being. So an on-demand pet sitting app with good caretakers would be a great hit. Especially amongst millennials, who are spending more on their pets than ever before. 
For such services, it's crucial that you vet the caretakers before hiring them on board. Just one bad review could make your business go sideways. 
What to focus on: 
Take time and hire only those who can really hold the responsibility for another life. The extent of service availability should also be fairly decent for the business to run well. 
8- Decluttering and Organization Service 
Many people struggle with hoarding and have a reluctance to throw away things. Though this may not seem like a big issue, it could cause a lot of financial strain and cause disruptions in your life. 
And it will be impossible for those who hoard to handle the situation without outside help. That's where an on-demand decluttering service could help. 
Since the popularization of the Konmari Method, people have attempted to get their living spaces organized. But in cases where merely Pinterest pictures won't suffice, professionals can help. 
What to focus on: 
Make sure that booking services on your app is easy. Your customers should be able to pick a person whose work matches their expectations. So ensure that information about the organizer's past work is available.
There are a lot of other on-demand services that people are looking for. You have to hire an iOS developer to get started with your business plan.